Armytek Wizard C2 Pro Magnet USB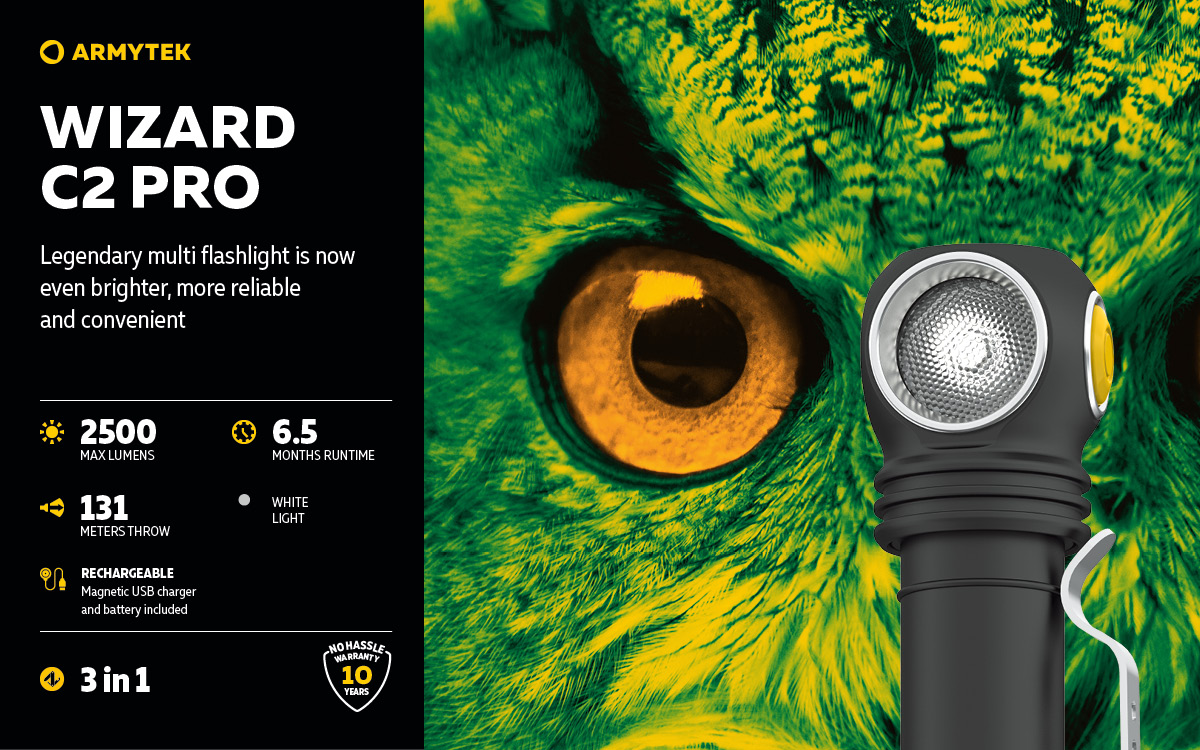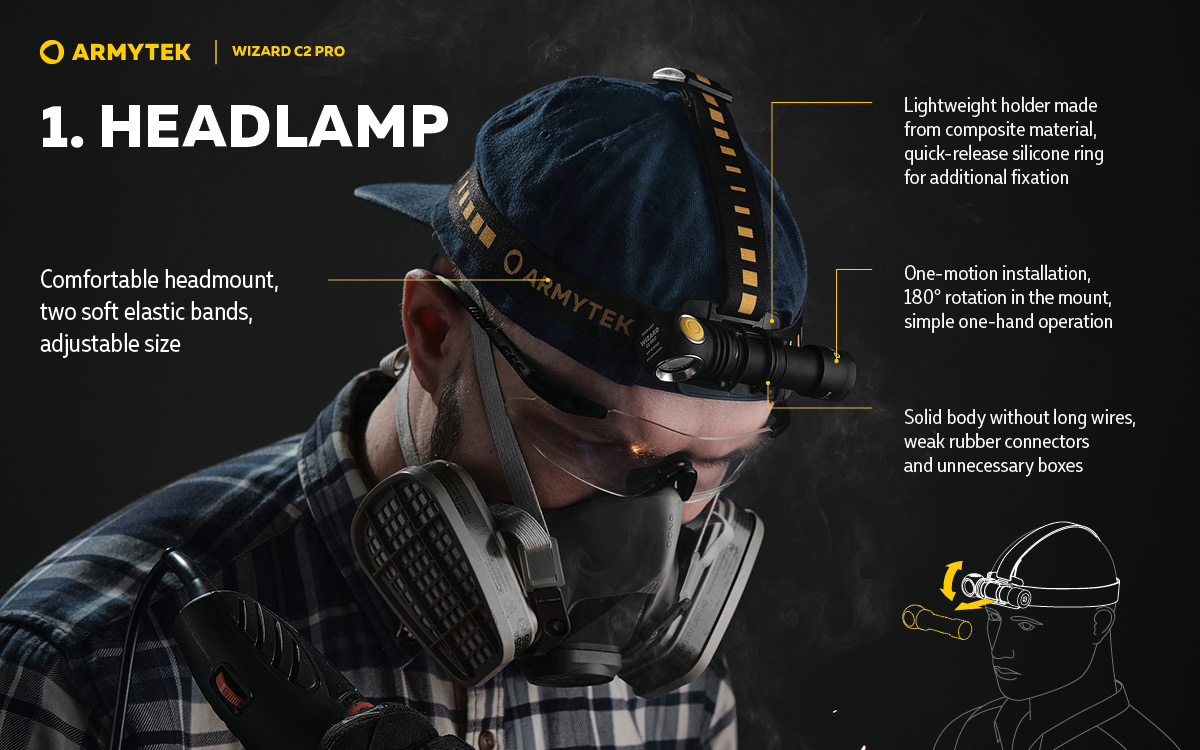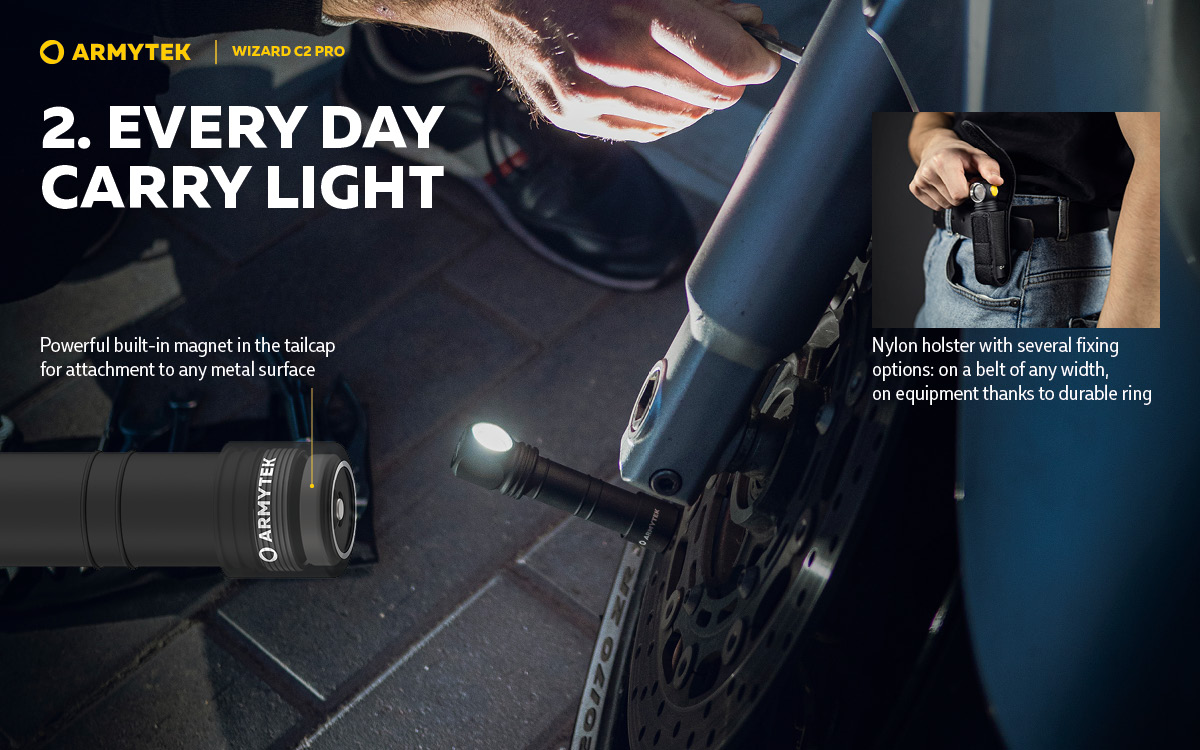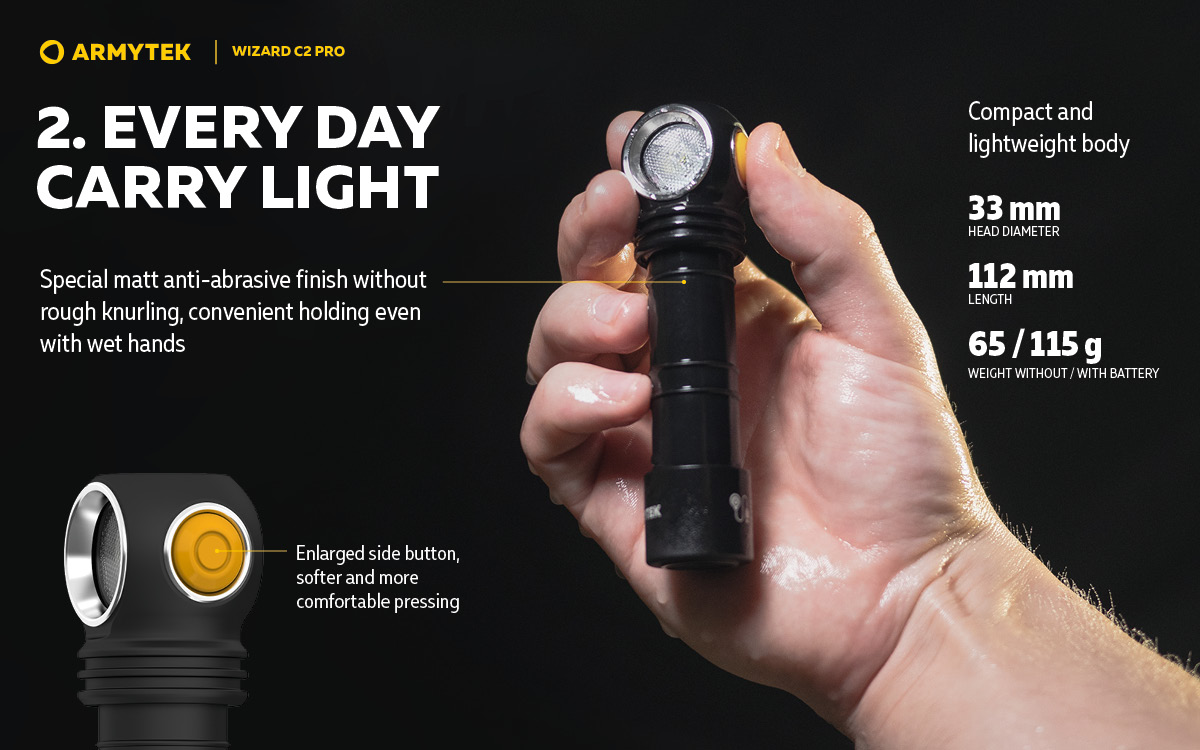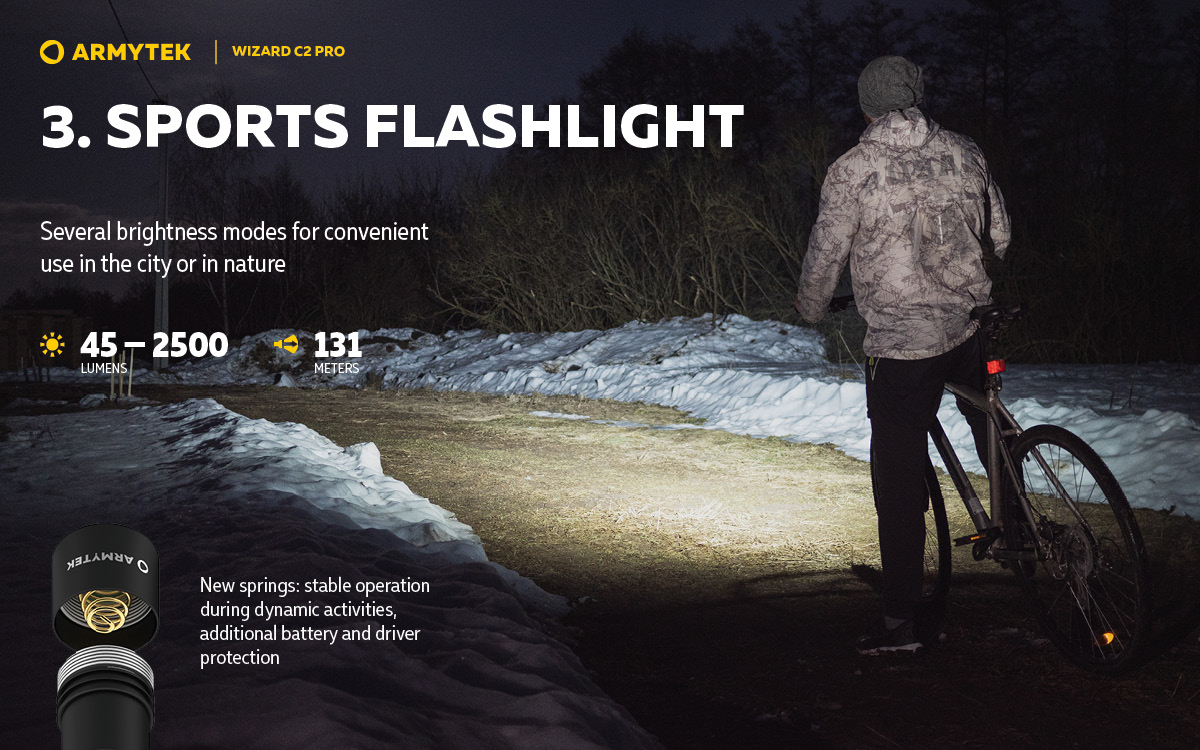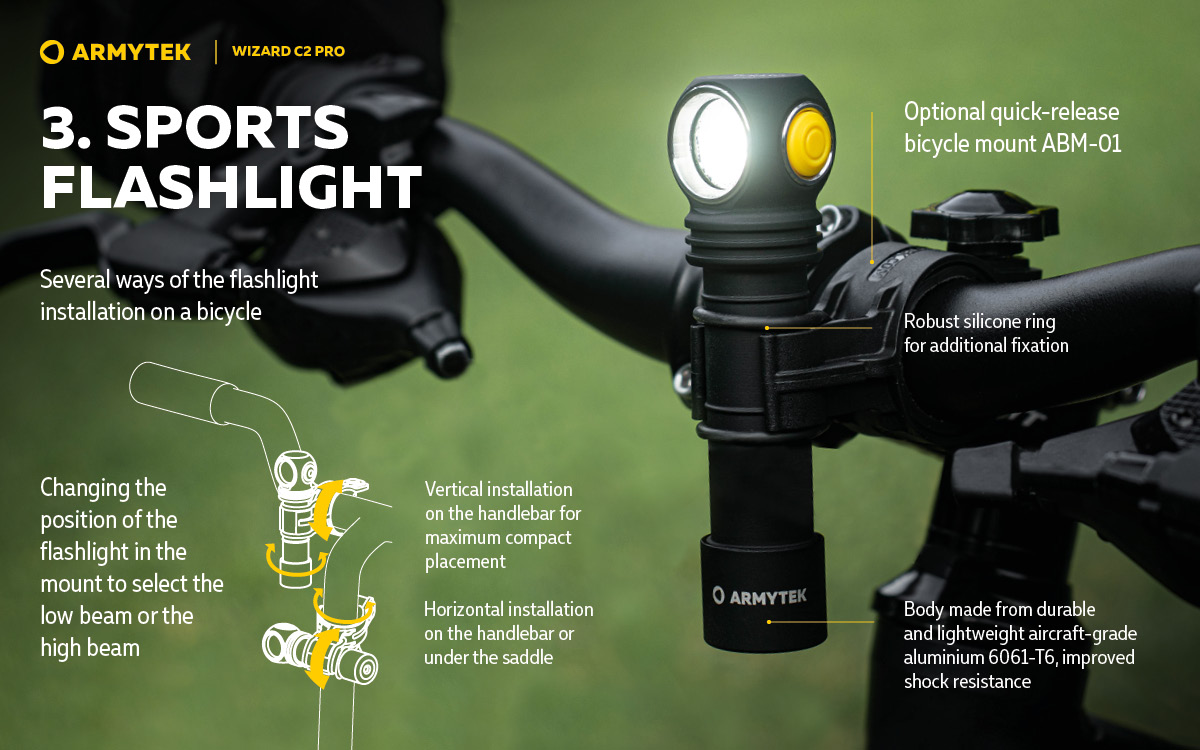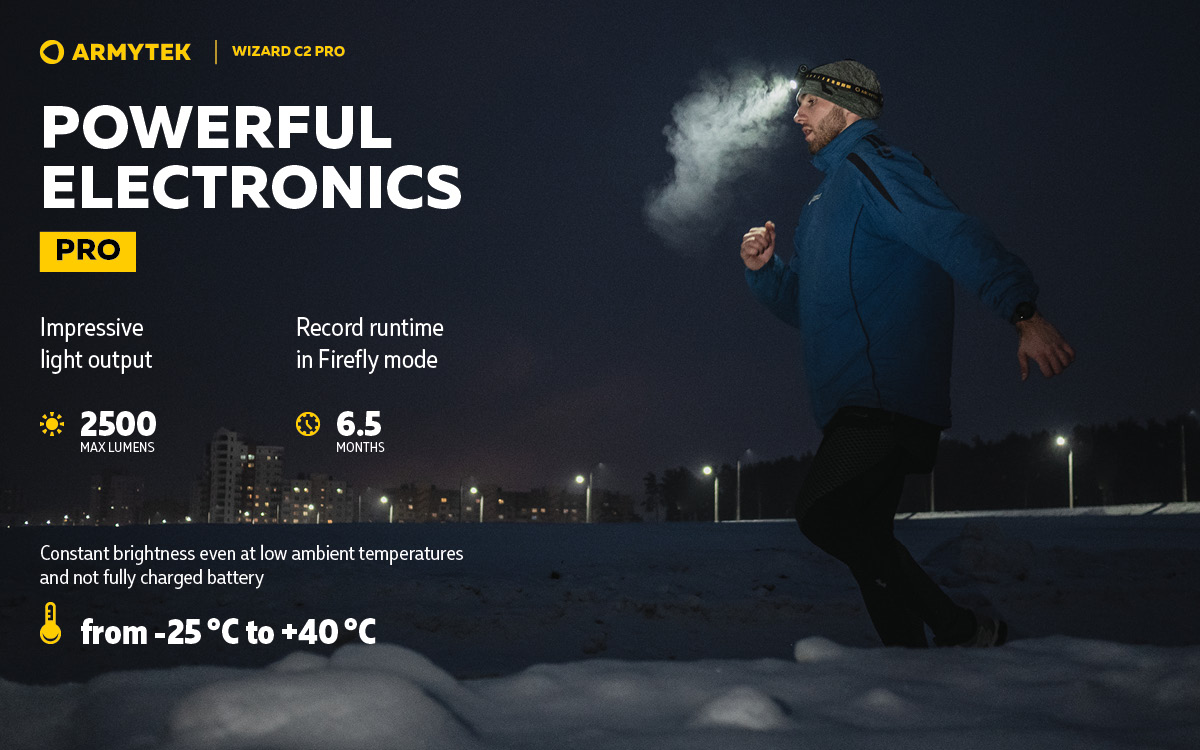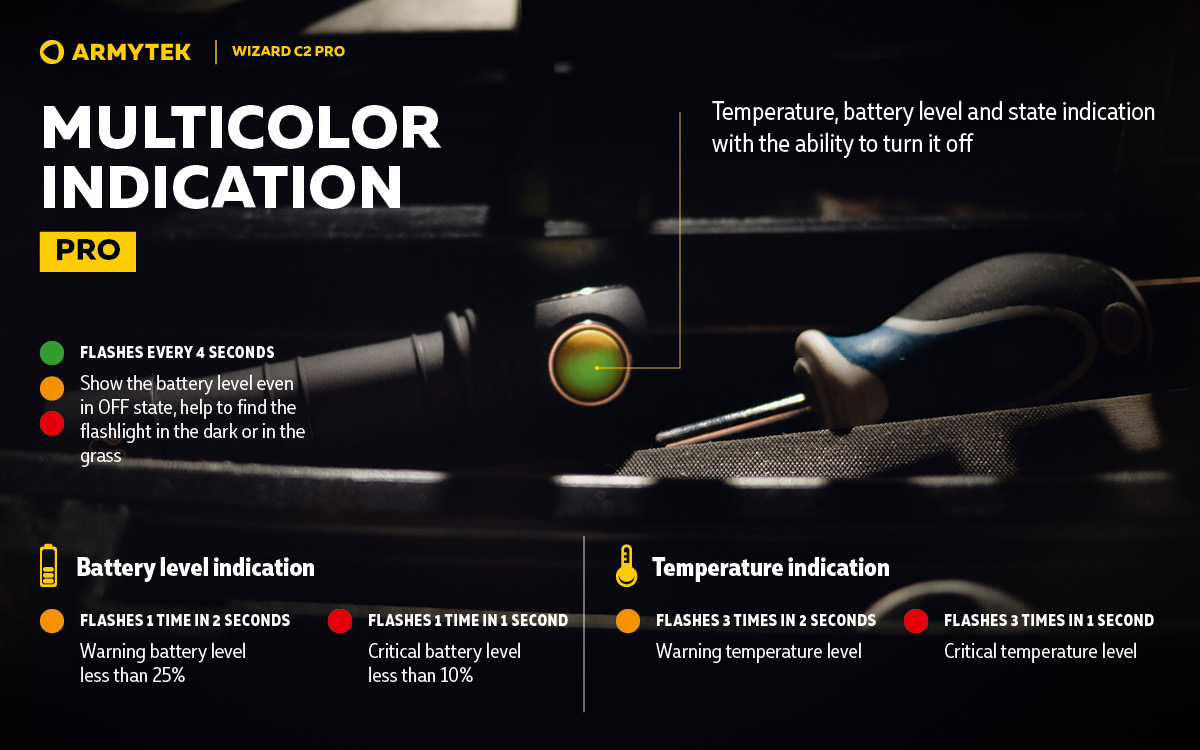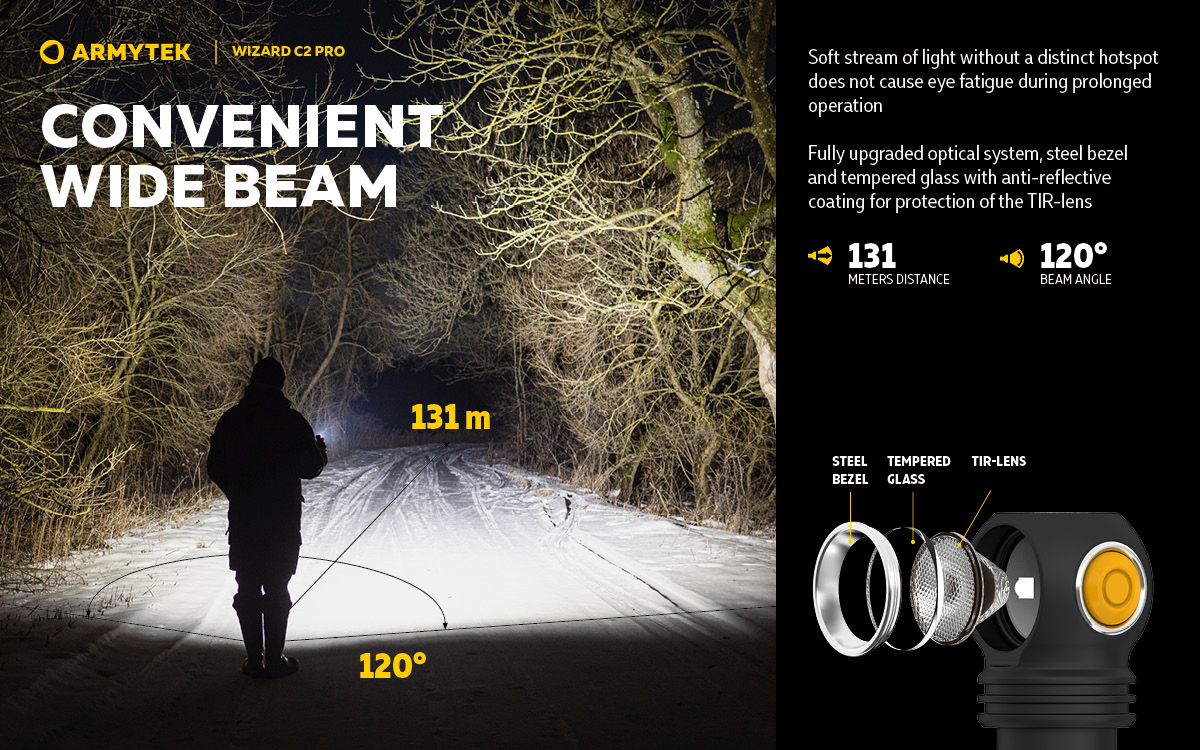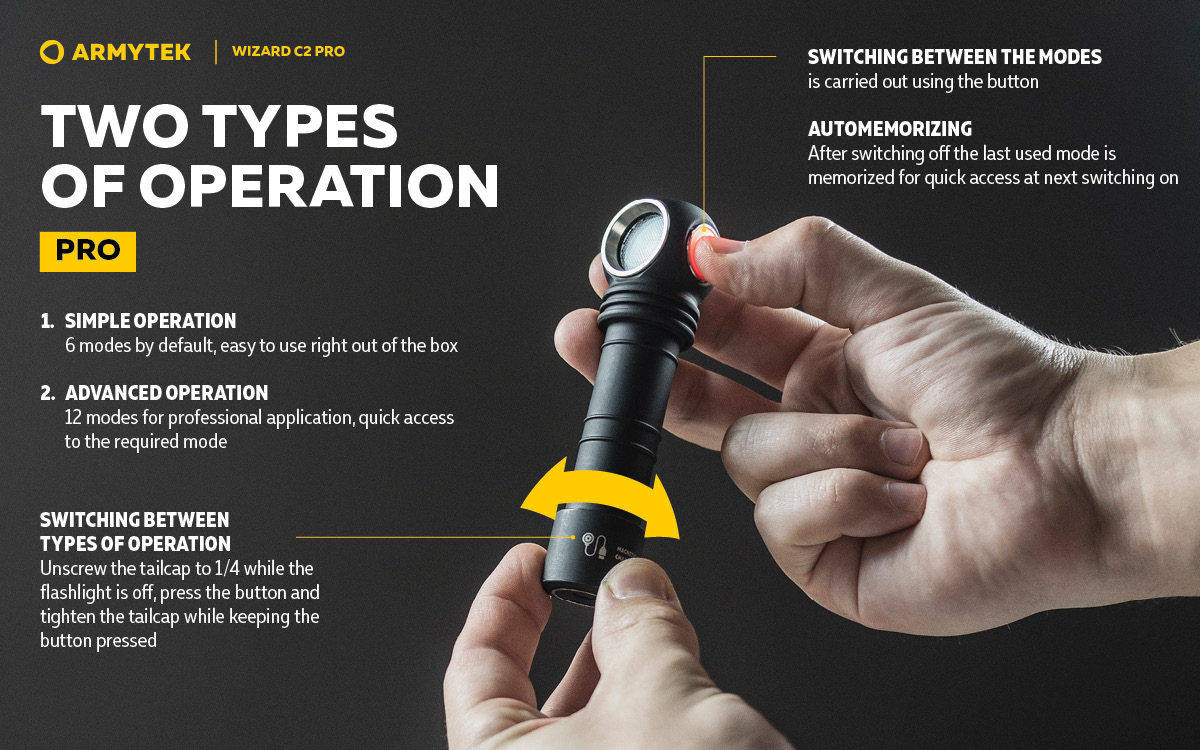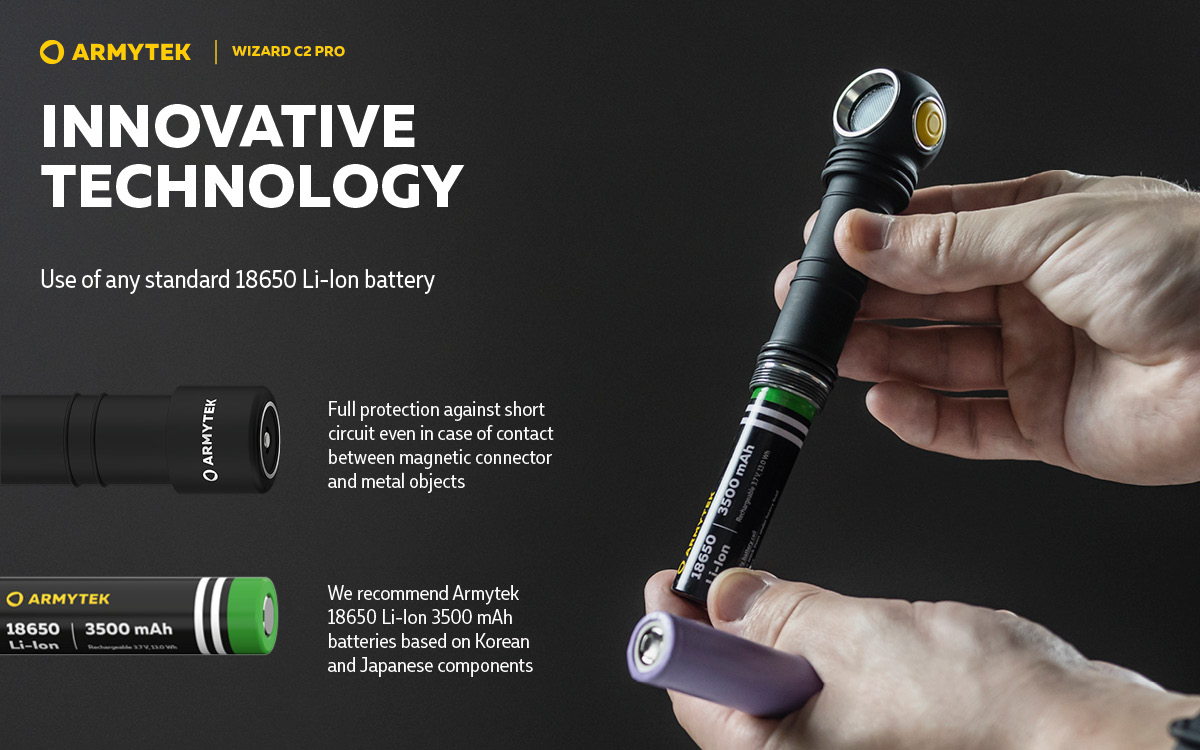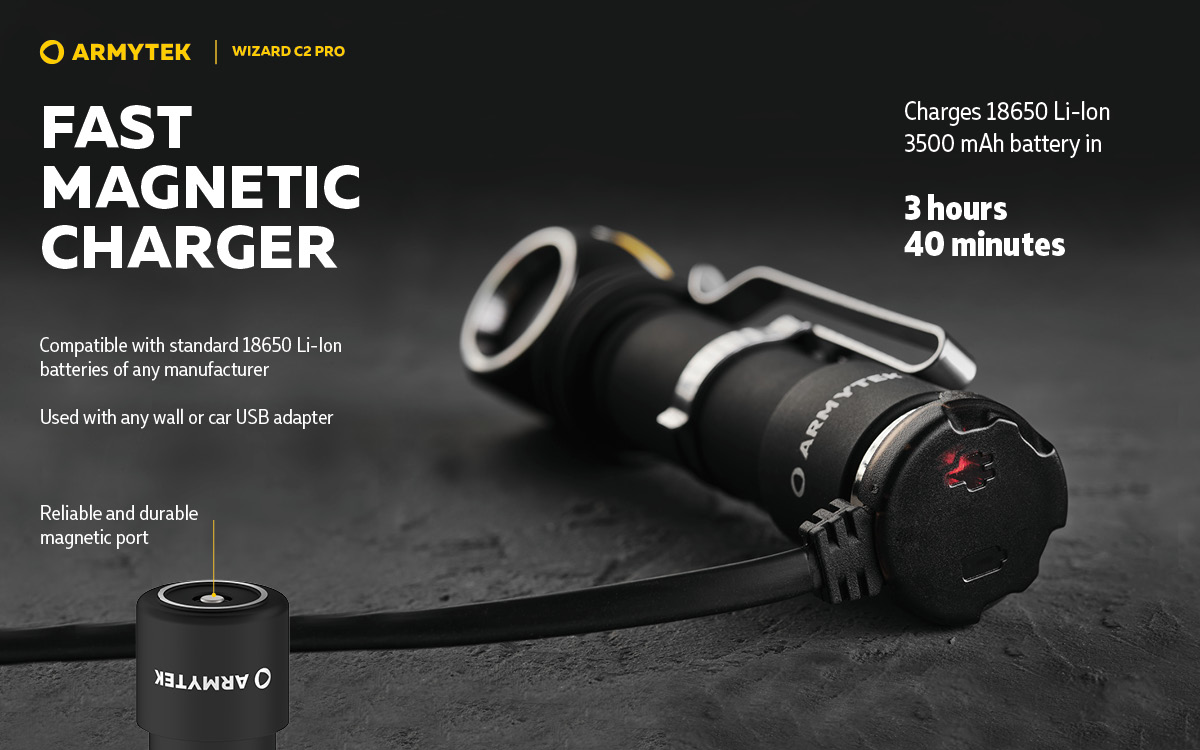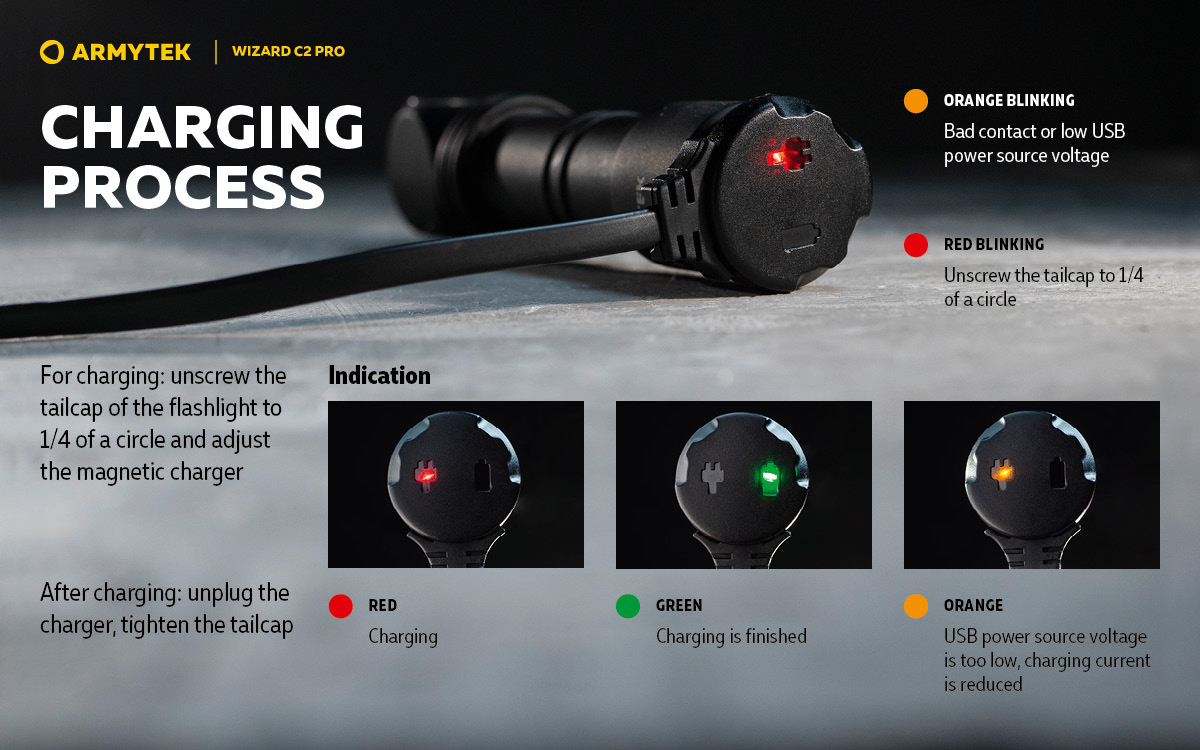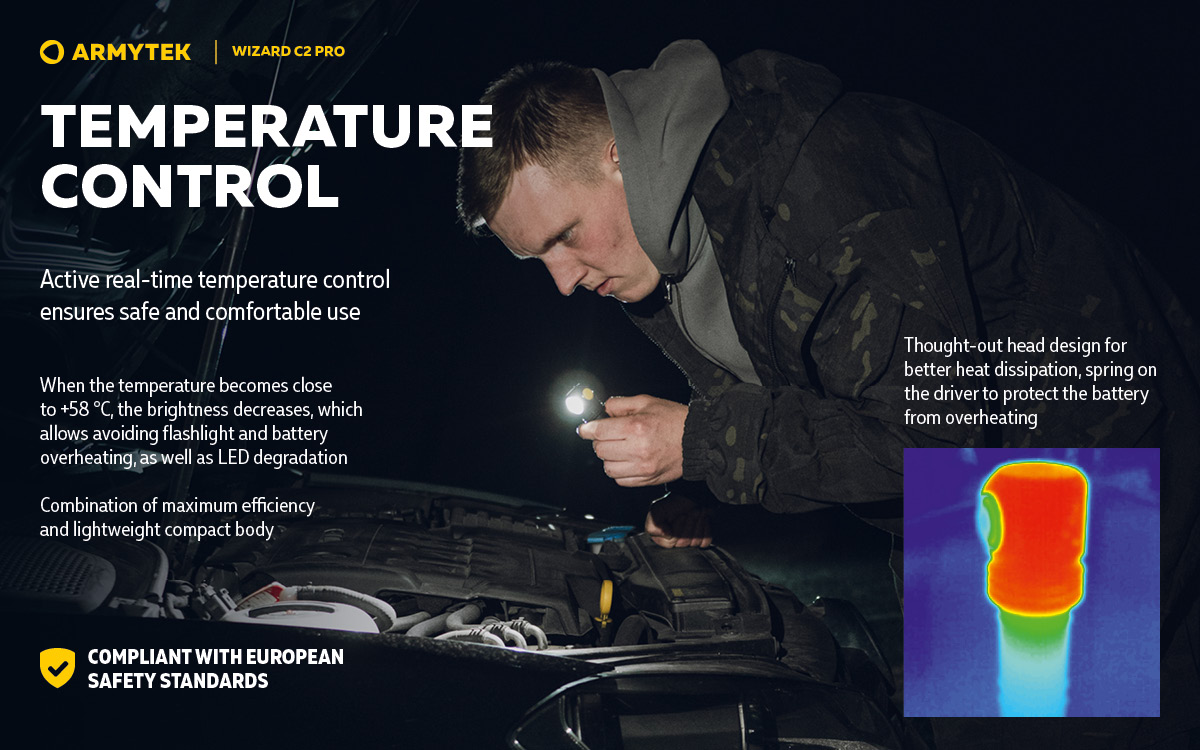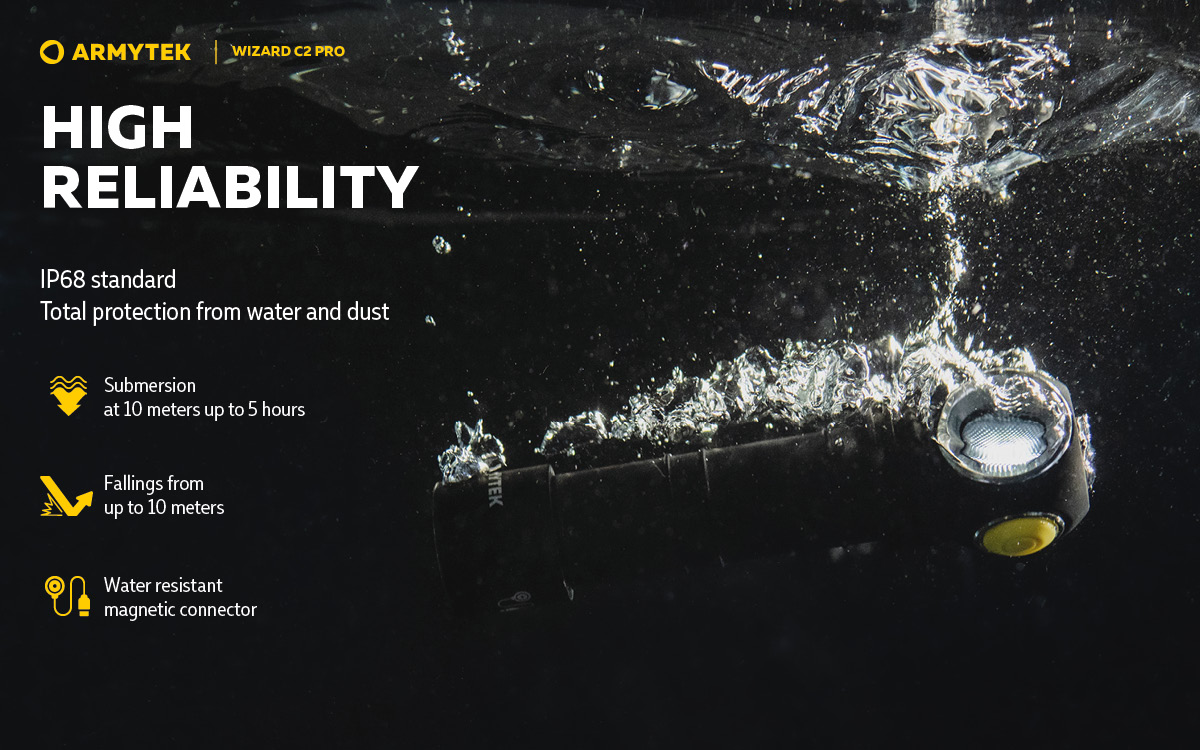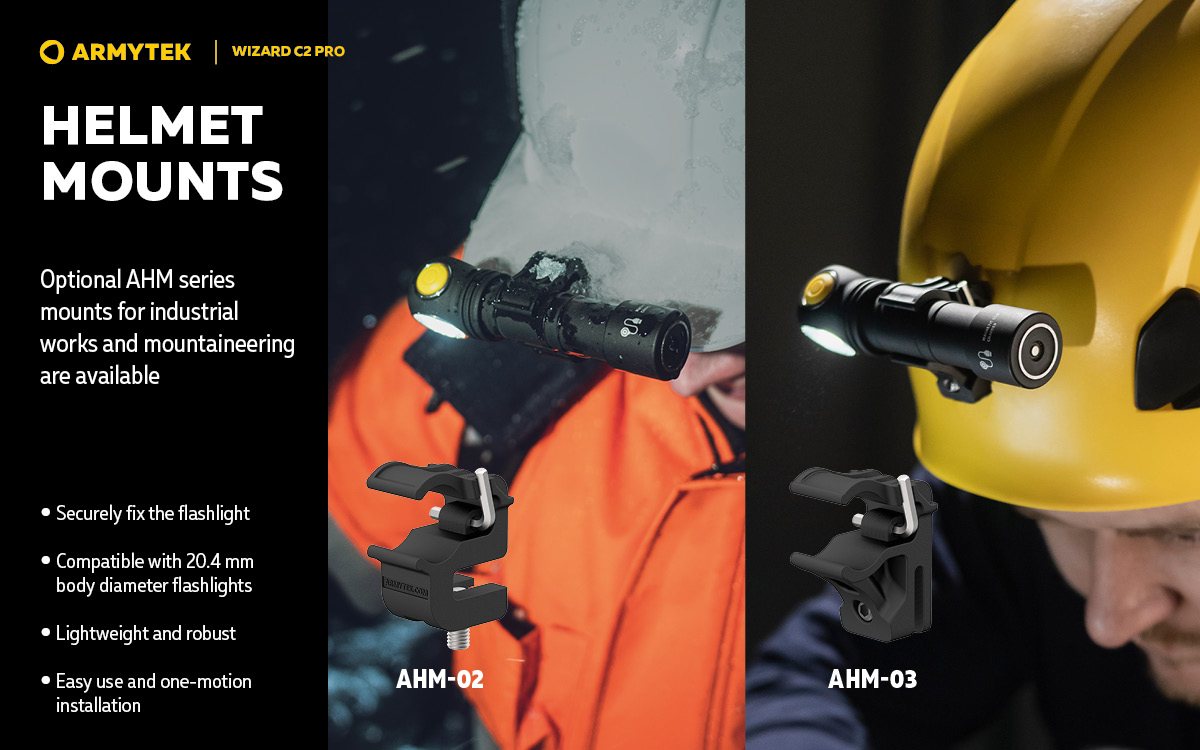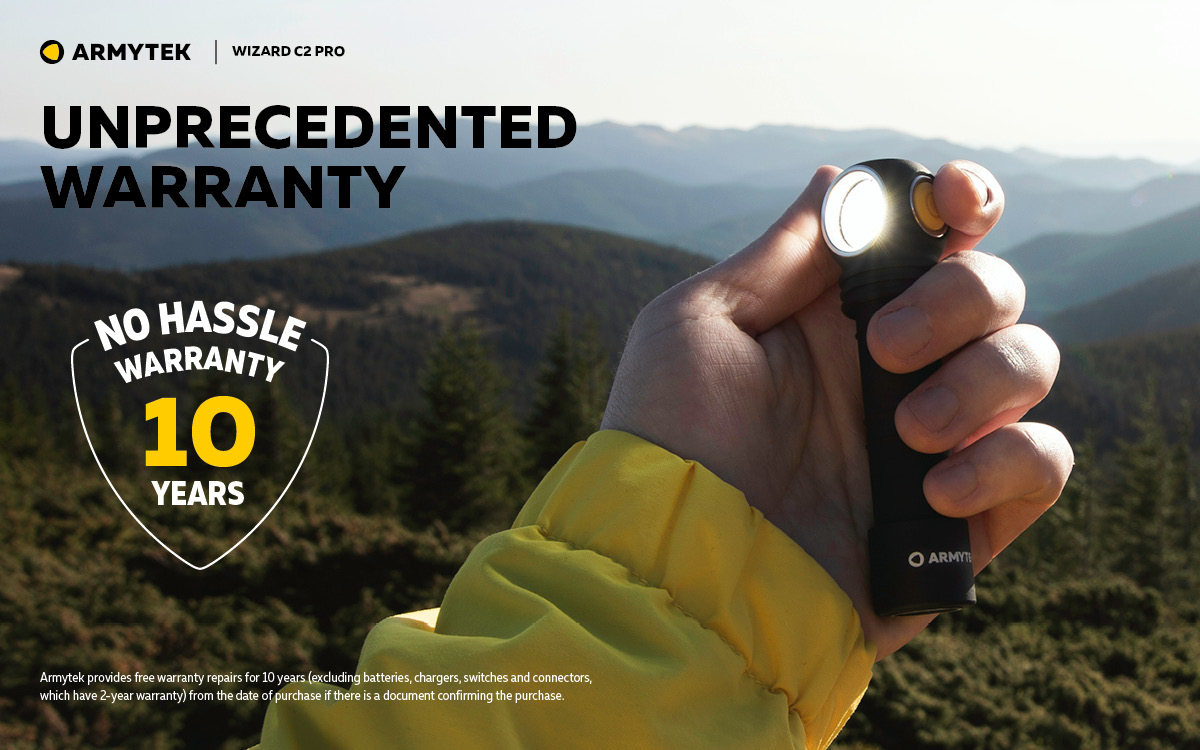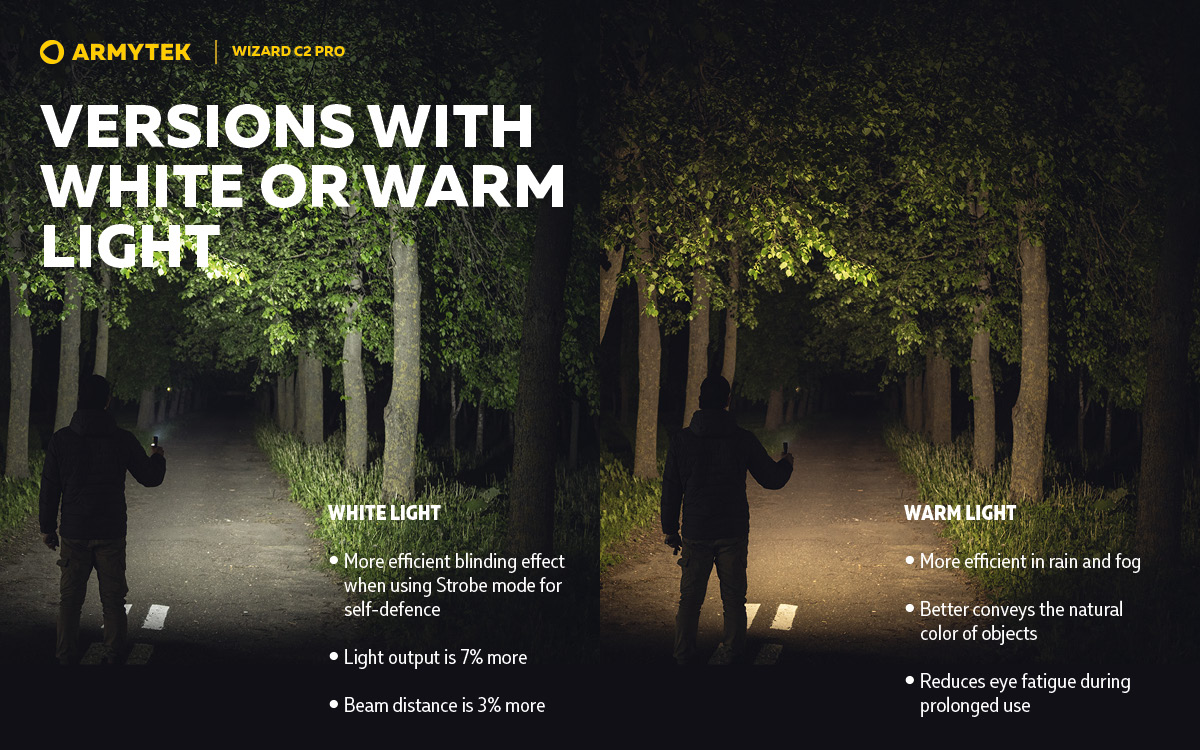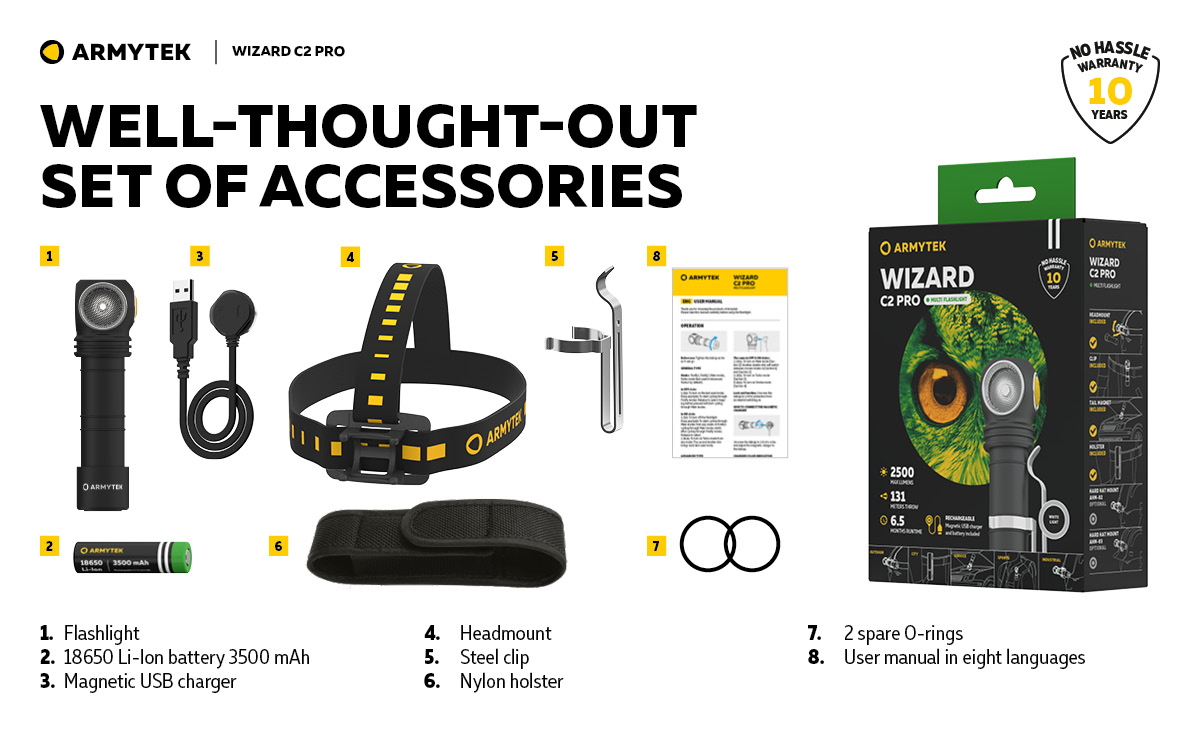 Legendary multi flashlight is now even brighter, more reliable and convenient
Wizard C2 Pro — the first multi flashlight in the new Armytek lineup.
Perfect solution for those who are looking for a multifunctional flashlight for continuous professional and everyday use.
The model is characterized by incredible brightness and maximum beam distance in the multi flashlight lineup. Charges from any USB power source using magnetic USB cable. Powerful magnet in the tailcap allows fixing the flashlight to any metal surface.
The set includes comfortable headmount, clip for attaching to clothes or a backpack, and durable nylon holster. Wizard C2 Pro is compatible with bicycle mount ABM-01 and AHM series helmet mounts for industrial works and mountaineering.
Wizard C2 Pro — multi flashlight 3 in 1
Headlamp
Simple one-hand operation, reliable headmount for running
Solid body without long wires, weak rubber connectors and unnecessary boxes
The flashlight is easily installed, removed and 180° rotatable in the mount
Quick-release silicone ring provides additional fixation
Every Day Carry Light
Compact design
Convenient side button
Special matt anti-abrasive finish without rough knurling
Durable nylon holster, robust removable steel clip and strong built-in tail magnet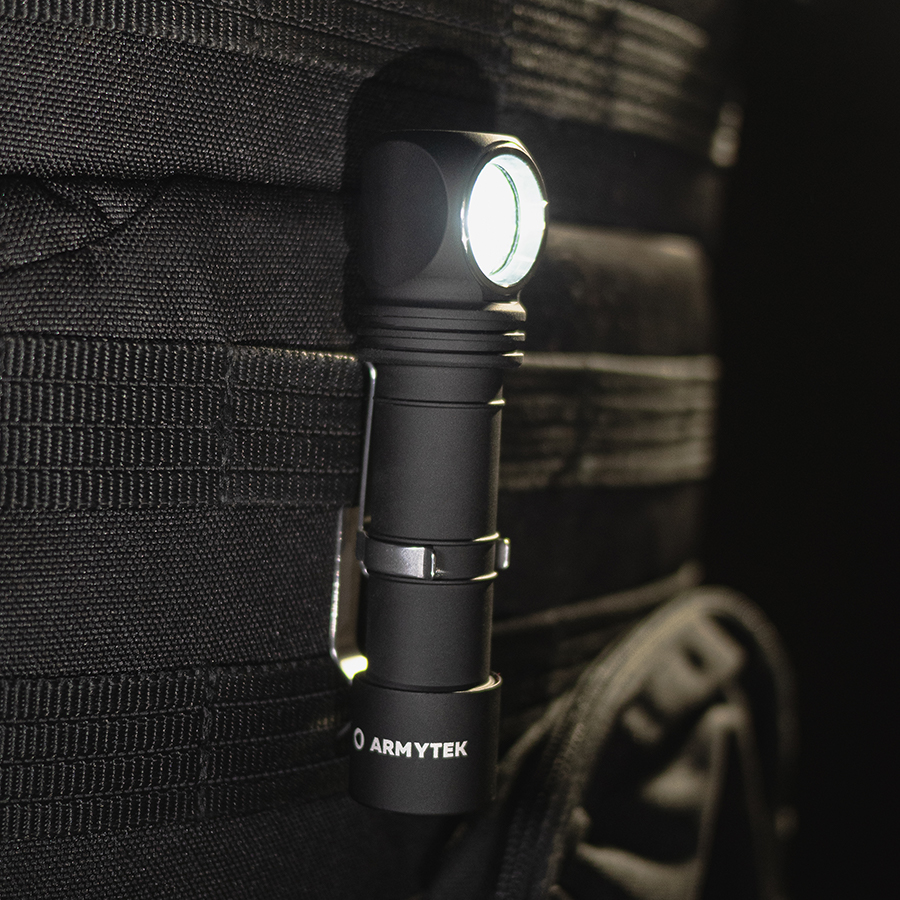 SPORTS FLASHLIGHT
Body made from durable and lightweight aircraft-grade aluminium
Improved shock resistance, new springs for better battery and driver protection
Constant light without flickering
Multiple variants of installation, optional accessories for mounting on sporting gear
WIZARD C2 PRO FEATURES
Specially designed optical system and TIR-lens: transmits more lumens, provides greater beam distance with comfortable wide spill.
Maximum LED efficiency: impressive for such a compact model brightness of 2500 lumens.
Thought-out head design: improved heat dissipation and brighter light with more lumens.
Large side button: soft and comfortable pressing.
Innovated electronics: combination of high brightness and prolonged runtimes.
Simple operation by default: easy to use right out of the box, possible to switch to professional advanced operation with 12 modes.
Improved springs: new springs for better protection of the battery and driver and increased performance efficiency.
Stylish body: matt anodizing and laconic design.
Well-thought-out set of accessories
Headmount
Comfortable headmount with two soft elastic bands, lightweight holder made from composite material and rubber ring for additional fixation. The bands securely hold the flashlight, do not rub the skin and leave no marks. The flashlight is installed in one motion, the size of the mount is adjustable.
Clip
Removable stainless steel clip has two options for installation on the flashlight, provides a reliable mounting on clothing, belt or bag, as well as deep fit on the pocket.
Holster
Nylon holster with several fixing options: on a belt of any width, on equipment thanks to durable ring.
Magnet
Powerful built-in magnet in the tailcap is for attachment to any metal surface.
ADVANTAGES OF WIZARD SERIES FLASHLIGHTS
Pro Powerful electronics provides impressive light output and record runtimes. Constant brightness even at low ambient temperatures and not fully charged battery.
Pro Multicolor temperature, battery level and state indication.
Convenient wide beam of fully upgraded optical system, steel bezel and tempered glass with anti-reflective coating for protection of the TIR-lens.
Innovative technology allows using any standard 18650 Li-Ion battery with 10A discharge current. Full protection against short circuit even in case of contact between magnetic connector and metal objects.
Active real-time temperature control to prevent overheating above +58 °C.
Total protection from water, dirt and dust in accordance with IP68 standard — flashlight continues to work even after submersion at 10 meters depth. Withstands fallings from up to 10 meters.
Robust and water resistant magnetic connector.
No hassle warranty 10 years.
18650 Li-Ion battery (3500 mAh) is included in the set.